Got my campers back!
I know it's a week late, but here are some cute pics of when we picked up the boys last weekend. They all had an amazing two weeks, and it was such a fun car ride home, hearing all their stories, accomplishments, and songs.
By the way, I'm trying out my inaugural post from the iPad. Bear with me as I try some stuff out. You guys don't mind being guinea pigs, do ya?
If you have any tips on blogging from this device, please share!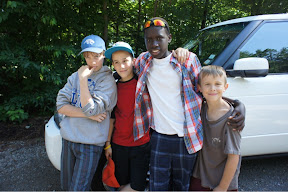 - Posted using BlogPress from my iPad